Inclusion, Diversity and Equality Review
Tuesday 2 May 2023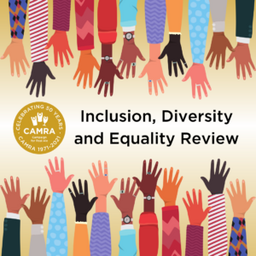 The Campaign for Real Ale (CAMRA) has published the results of its Inclusion, Diversity and Equality Review.
The report is the culmination of two years of research into identifying areas for improving inclusion, diversity and equality within the organisation, undertaken by a dedicated Review Group.
The Review came in response to discussions of discrimination and harassment in the wider beer and pub industry that took place throughout 2021-22 and was set up to look at how CAMRA could become more inclusive and welcoming. The Review Group was tasked with analysing existing policies, regional and national festivals, communications with members and non-members, disciplinary and complaints processes and procedures, and training requirements.
Thousands of CAMRA members and those in the wider industry gave their views, and the Group have now set out a number of recommendations in response to their findings, all of which have been accepted by the Campaign's National Executive.
For more information on the Review Group and to read the report, Click this link