Real Ale Rambles
REAL ALE RAMBLE 305 Saturday January 15th
GBG PUBS 12 pubs
This is the first time for a couple of years that we have been able to do our annual trip round the Good Beer Guide pubs in Coventry. We meet at 12.15 at the Greyhound in Sutton Stop. As in previous years, I shall get there by train (11.34 arrives at stadium 11.48) and then walk the route back to the City Arms. As usual, we will not be publishing all the pubs on the route, but some of them are:
GREYHOUND
??????????????
TWISTED BARREL
??????????????
??????????????
TOWN WALL
??????????????
??????????????
OLD WINDMILL
??????????????
??????????????
CITY ARMS
REAL ALE RAMBLE 306 Saturday 12th February
RIVER LEAM 5 miles & 2 pubs
This walk has been postponed a number of times; originally because of flooding, then covids, it is the most delayed walk we have ever done. I only hope that, as it has been delayed so long, nothing has changed since I first surveyed it! It is such a good walk that I am surprised I have never done it before.
We meet at the NEWBOLD COMYN ARMS in Leamington at 12 noon. At 12.30 we set off towards the left side of the swimming baths and then turn left to follow the river upstream. Passing through a field and the play equipment we descend to the river bank for our first view of the Leam. Then we follow the river through a meadow to a footbridge. We continue to follow the river to the hides which give good views of the Leam Valley Wetlands.
From here we turn north for a while until we come to the path to Offchurch. This takes us through fields to the river again, where two footbridges take us over separate arms of the river. The two river courses suggest that there was a mill here once. Then the path passes through the parkland associated with Offchurch Bury.
As we approach Offchurch the valley sides give good views back to the tower blocks at Cubbington, before we emerge onto a road at Offchurch close to the STAG.
After half an hour's rest and refreshment we retrace our steps as far as Newbold Comyn and then, rather than follow the river again, we strike out through the park back to the NEWBOLD COMYN ARMS.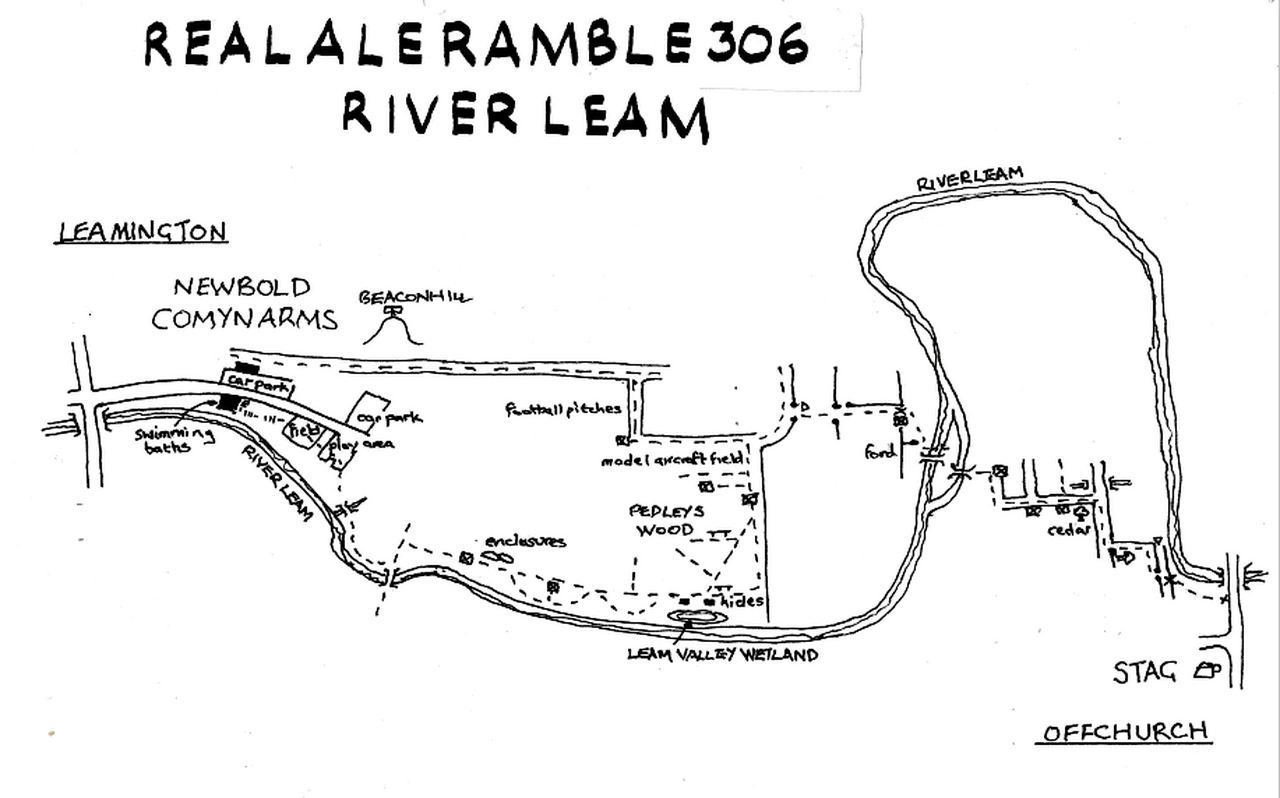 FUTURE EXPEDITIONS
Feb 12 RIVER LEAM
March 19 RIVER AVON
April 16 RIVER ITCHEN
May 14 WHOBERLEY, HOREWELL and ASTHULL
June 18 BOND STREET DISTILLERY, Hinckley
Meets for these walk are always 12 noon for a 12.30 start. Copies of the walks are available at Beer Gonzo, Earlsdon.
SUNDAY LUNCH WALKS - in conjunction with the Health Development Service of Coventry City Council.
These walks all start at 12 noon. Copies of these walks can be obtained from Beer Gonzo in Earlsdon, or for more details contact moc.liamg@ttekculfg>
SUNDAY LUNCH WALK 102 Sunday 7th November r
COVENTRY CITY CENTRE: WEAVING, MONASTERY AND MILLS 2 miles & 2 pubs
This month we meet at the FLYING STANDARD on Trinity Street at 12 noon and set off at 12.30.
We turn left and pas between Lychgate cottages and Holy Trinity church. Here we turn left again and take the bridge over the site of Coventry's first cathedral. This cathedral was part of the monastery of St Mary, which was demolished in 1539 during the Dissolution. It was the only cathedral destroyed during the dissolution. Coventry managed to loose its next cathedral during the blitz in 1941. Lets hope we manage to keep hold of the present one!
Next we pass Day's silk ribbon factory and use steps to go downhill. John Day's ribbon factory in New Buildings operated as a workers' co-operative with weaving families renting individual looms, all of them steam powered. The best view is from New Buildings, which unfortunately is a cul-de-sac these days. Does anyone remember it when it was the Exchange and Mart?
We come out at Whittle Arch and follow the town wall though Lady Herbert's Garden.
The Town Wall was started in 1355 and finished in 1534. It was slighted in 1662 on the orders of King Charles II. This was done because the city had defied his father, Charles I, when he demanded entry to the town at the start of the Civil War. Charles II made sure this would never happen again.
At the end of Lady Herbert's Garden we double back a short way to pass under the Ring Road. We now walk around the Swanswell and return towards the Ring Road.
Before the growth of Coventry the river Sherbourne ran through a succession of pools in marshland. Bab Lake was one of these, as was the Swanswell and St Osburgh's Pool. Eventually the river was confined within man-made banks and the pools became mill ponds. Amongst the mills were Priory mill, Earl's mill, Shut mill, New mill and Bastille Mill. By the mid eighteenth century all the pools had been drained except Swanswell, and Hales Street and Fairfax Street were built in the area.
As we near the Bus Depot we take the access road into Pool meadow. Past the bus station we come to Hill Top, at the service access for the Britannia Hotel. Hill Top is not a particularly ancient route. Since it crosses the site of St Mary's monastery and church it must date from after 1539.
We now pass Holy Trinity again and then St Michaels ruins on the left. The 'gladiator' tombstone stand in the churchyard here. The 'gladiator' was John Parkes, a sword fighter and fencing master of some repute. He made a living by staging exhibitions of sword-fighting prowess, duelling with other professionals for public entertainment. He died in 1733. Captain Godfrey, a contemporary observe, said 'John Parkes was a thorough swordsman, and an excellent judge of all its parts'.
Finally we reach the GOLDEN CROSS where we can have a little rest and relaxation after our exertions on such a strenuous walk!.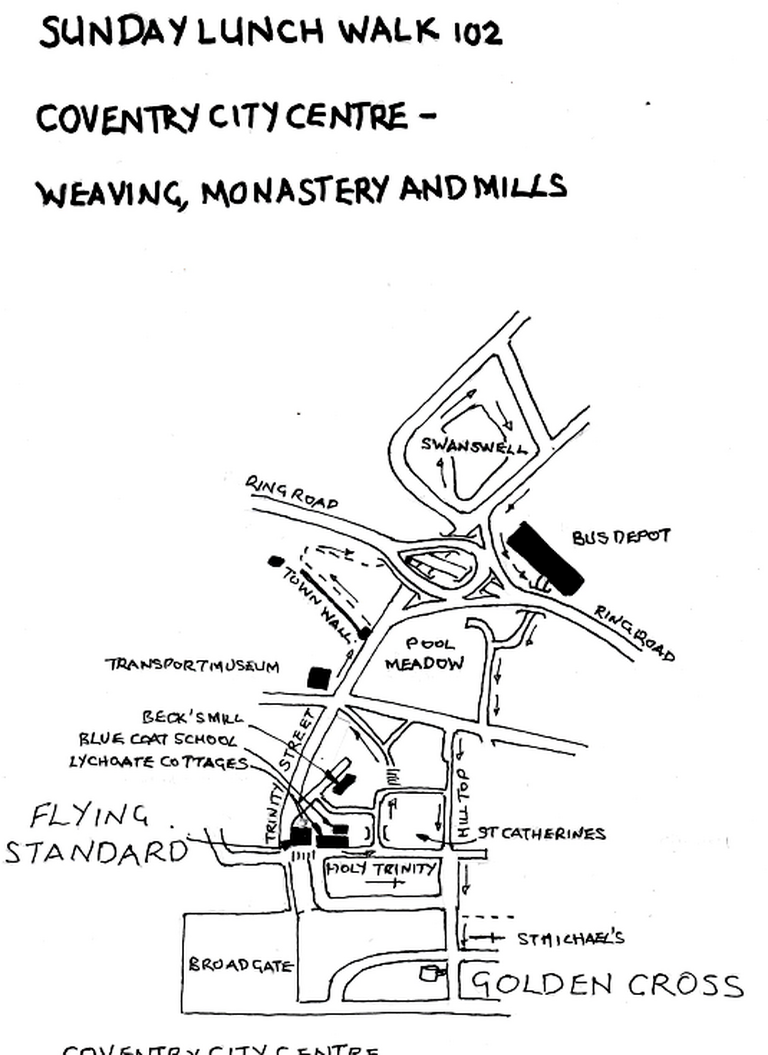 FUTURE EXPEDITIONS
Sunday 5 Dec Earlsdon Cafes
Sunday Jan 2 Alvis, Carbodies and Naul's Mill
Meet at the Broomfield Tavern, Spon End
Sunday Feb Morris Motors and Henley Mill
Meet at the Signal Box
These walks all start at 12 noon. Copies of these walks can be obtained from Beer Gonzo in Earlsdon, or for more details contact moc.liamg@ttekculfg