Real Ale Rambles
REAL ALE RAMBLE 326 Saturday November 11th
ALLESLEY 4 miles, 1 cafe & 4 pubs
This month we visit some of the western pubs. We meet at the VILLAGE CAFE in Gardenia Drive in Allesley at 12 noon.
At 12.30 we set off, pass under the A45 and pick up Parkhill Lane on the Eastern Green side of the dual carriageway. This lane is now a footpath which leads to Eastern Green Lane at Parkhill School. Right here and left at Dial House Lane brings us to the UNICORN, one of those vast suburban pubs, whose building in this case spanned the Second World War. The original Unicorn Beerhouse stands opposite on Unicorn Lane.
After half an hour's rest and relaxation we continue along Unicorn Lane and in a short distance come to the VALE. We spend half an hour here before setting out again along Nod Rise.
Between Cartmel Court and Bowfell Court there is a path that crosses Alles Brook. Here we go left and follow the brook downstream. We follow the stream under the A45 and then turn left to go uphill along Buckingham Rise to reach the MINSTREL BOY. I believe that it is now run by a family from the Indian subcontinent, so the menu should be worth studying
Continuing after another half an hour we climb the hill to reach St Christopher's church at the top. We pass the row of shops and continue towards Allesley Park. We pass the mound that represents the site of Allesley Castle and come to Allesley hall. Then over the footbridge that crosses the Allesley Bypass we come to our last pub, the RAINBOW.
After more rest we take the Bridle Path to return to the VILLAGE CAFE.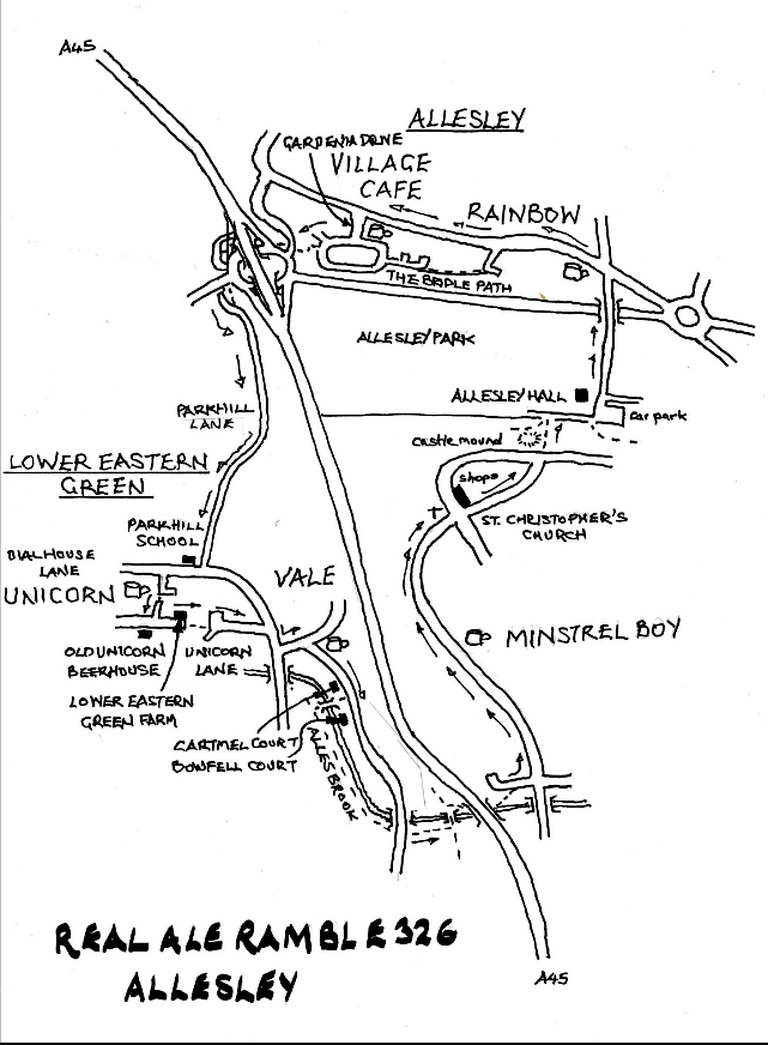 REAL ALE RAMBLE 327 Saturday December 9th
MEDIEVAL COVENTRY 1 mile & 4 pubs
I came up with this idea whilst drinking a glass of wine in St Mary's hall one day; that there are enough medieval buildings with licences today to make a walk. That is truly medieval, up to the end of the fifteenth century, not Georgian or Victorian!
We meet at 12 noon at St Mary's hall. There is limited space at the bar, so I shall greet people in the courtyard.
The hall was originally built as a guildhall in 1340-42 in wood, being rebuilt in stone in 1460. On the rebuilding the hall was extended to take in the site of a row of cottages that faced Bayley Lane, which explains why there are two cellars. The cellar under the cottages was a tavern, that is a place where wine was sold. The cellars now form a restaurant and are breathtaking. The beer choice is a collection of rather pedestrian bottles, so a glass of wine is probably the best bet.
At 12.30 we walk up to Hay Lane for the Golden Cross. This is thought to date from 1583, so I am already breaking with my theme here, as that makes it Tudor rather than medieval. Oh well, what's the odd hundred years in the grand scheme of things! The pub is thought to stand on the site of Coventry mint of 1466 – 1470. In 1770 it was called the Dog and Duck when a Birmingham gunsmith acquired the pub and renamed it the Cross Guns. When the gunsmith moved to Spon Street he took his sign with him and the pub became the Golden Cross.
At 1.00 we walk along Warwick Lane to the Spire Bar on New Union Street. This was originally the spire of the church attached to the Franciscan or Greyfriars monastery, which was founded by Ranulf de Blondeville who was Earl of Chester 1181 – 1232. On the dissolution of the monasteries in 1538 the monastery was demolished and the stones reused elsewhere, but the tower and spire survived. This had many uses over the years, of particular note is its use as a pigsty! With the growing population of Coventry in the nineteenth century a new church was built here, incorporating the tower and spire, in 1832. This church did not last very long as it was destroyed in the air raid of 8th April 1941, yet the tower and spire survived again. After the war they stayed as a shell until being turned into a shop in the 1980s, later becoming Inspire and now Dillon's brewery Spire Bar.
Lastly we walk through the redevelopment, past Market Way, to the Old Windmill in Spon Street. This is dated to c1450 when it was constructed around the trunk of a tree. One original feature is the fireplace which was discovered in a renovation in 1985. For many years there were two pubs called the Windmill in Spon Street. In 1842 this pub was renamed the 'Old Windmill' to help distinguish it from the other one. The Old Windmill is still referred to as 'Ma Brown's' occasionally. The Brown family's association with the pub began in 1931 when Sydney Brown moved here from the Lamp Tavern in Cook Street. He died in 1940 and his wife, Ann 'Ma' Brown kept it until her death in 1967, at the age of 84. Her son Ted and his wife Dora then kept it until retirement in 1975. The pub was a home brew house until 1930 and the brewhouse survives as a back room today. The original tiny bar also survives as snug only 2ft 6 in wide.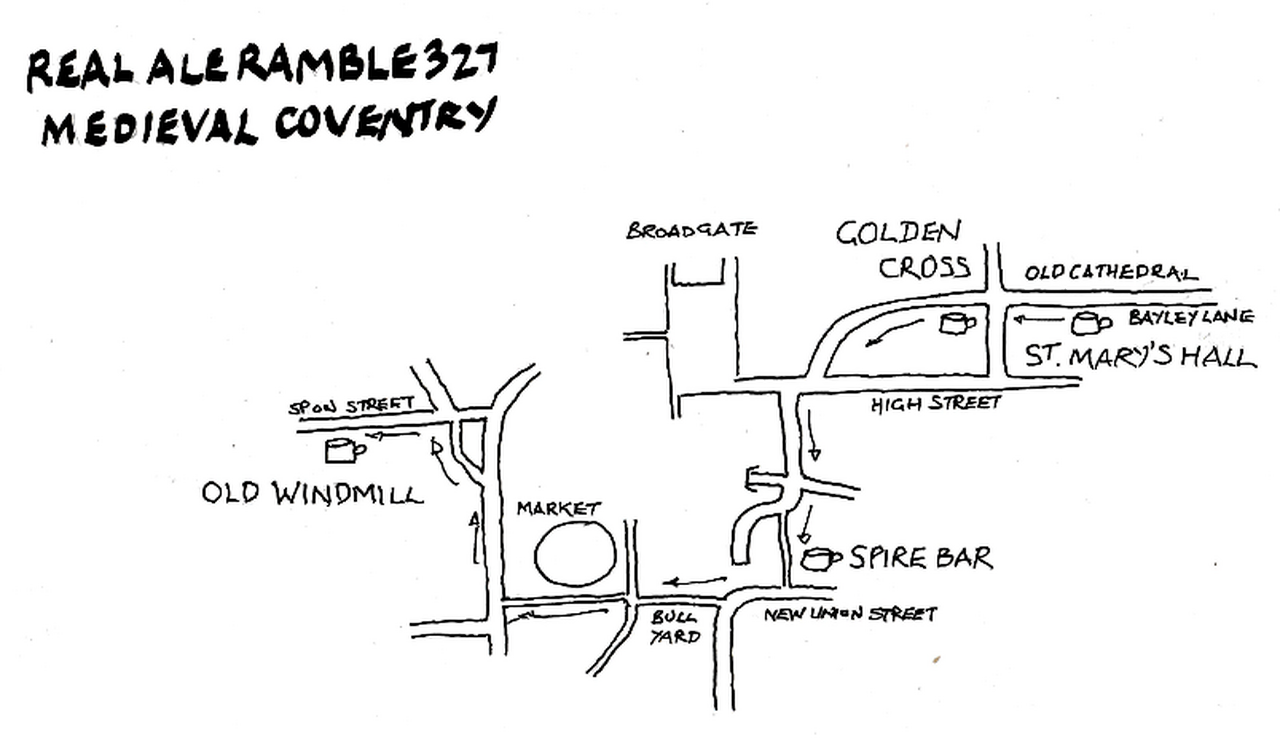 FUTURE EXPEDITIONS
All meeting times are 12 noon, unless specified otherwise.
Jan GBG PUBS
Feb RIVER AVON
March RIVER SWIFT
April RIVER AVON (Lynne's area)
May BIRMINGHAM SOUTH
June SUTTON COLDFIELD
Meets for these walk are always 12 noon for a 12.30 start. Copies of the walks are available at Beer Gonzo, Earlsdon.
SUNDAY LUNCH WALKS
These walks all start at 12 noon. Copies of these walks can be obtained from Beer Gonzo in Earlsdon, or for more details contact moc.liamg@ttekculfg>
SUNDAY LUNCH WALK 126 Sunday 5th November
STARLEY GARDENS 2 miles & 2 pubs
This time we meet at the GOLDEN CROSS at 1.00 p.m. This is a later start than usual because the second pub, Twisted barrel, does not open until 2.00 p.m. on a Sunday.
At around 1.30 we set off to walk between the two cathedrals. Down the steps and past the sculpture of St. Michael and the devil we come to the open space that runs through Coventry University from Priory Street to Cox Street. At Cox Street we turn left then right into Grove Street. Then we walk through a car park under the Ring Road and follow another path through University buildings. This brings us out on Gosford Street. From here we take Far Gosford Street to Fargo for opening time at TWISTED BARREL.
After half an hour we return along Far Gosford Street and this time pass to the rear of the Sir William Morris building, which was successively the Hotchkiss factory, Morris engines and DHSS offices before becoming a University facility. Then we negotiate another car park under the Ring Road and follow Whitefriars Lane to pass Whitefriars Gatehouse. At present this is being renovated to make tourist accommodation. From here it is a short walk up Much Park Street and Bailey Lane to return to the GOLDEN CROSS.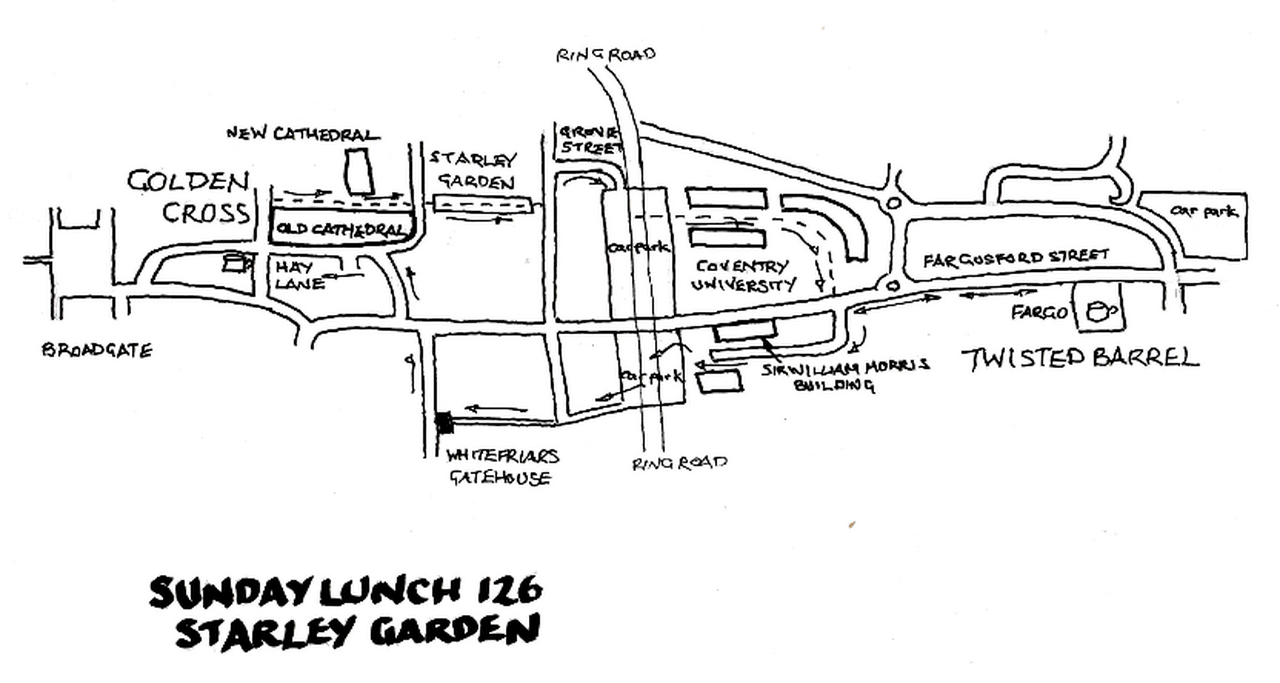 SUNDAY LUNCH WALK 127 Sunday December 3rd
CAFE SOCIETY ½ mile & 4 bars
This is the annual December crawl along Earlsdon Street. However, it has changed somewhat from previous years. We start at Cafe Bravo at 12 noon this year as it closes at 4 p.m., which might can be a tad early for a finish.
From Bravo we can visit Angelito next and then Anatolia.
After Anatolia we shall give Da Vinci a miss since they refused to serve us last year: I don't intend to give them the opportunity to make us unwelcome a second time! Instead we carry on to Surf and Slice, the fourth and last bar, where there is a pleasant upstairs room and a choice of bottled beers with Vedett and a Mashionistas' beer on tap.
After this Emily's no longer exists, in fact it is to become Surf and Slice's bar (will it be open by December?) and I have dropped Street because it doesn't open until 5 p.m. So if anyone wishes to continue drinking they will have to go to the Royal Oak, Mills's, Beer Gonzo or the City Arms.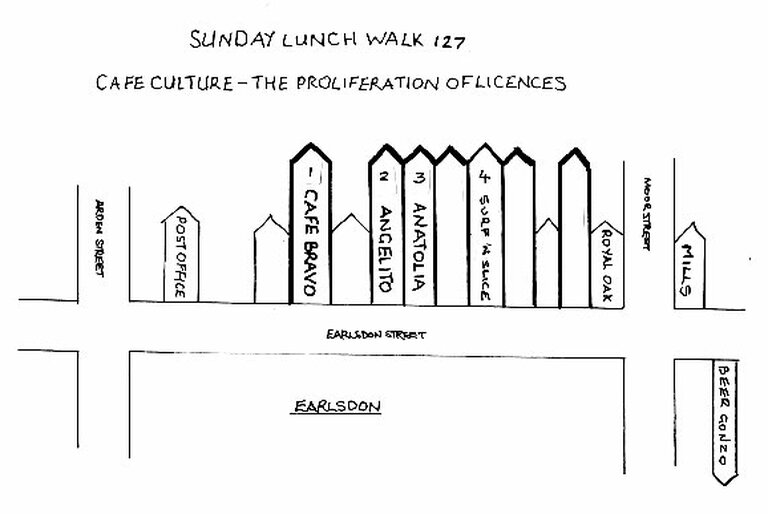 FUTURE EXPEDITIONS
All meeting times are 12 noon, unless specified otherwise.
Sunday Jan STOKE Meet at the Biggin Hall Hotel
Sunday Feb COUNDON AND RADFORD COMMON Meet at the Holyhead
Sunday March LAVENDER CAFE, BUBBENHALL Meet at the Malt Shovel
Sunday April GARDEN OF HOPE Meet at the Phantom Coach
Sunday May BRANDON WOODS Meet at the Roseycombe
Sunday June BEDWORTH Meet at the Mayor's Cafe in the Miners Welfare Park